小肠——营养消化吸收的主要场所
Small intestine——The main place for nutrient digestion and absorption
小肠上接胃幽门,下接盲肠,分为十二指肠、空肠、回肠,主要通过胰液、胆汁和小肠液的化学性消化以及小肠运动的机械系消化,将营养物质最后分解为可吸收的小分子物质,并在小肠被吸收入血液和淋巴循环。小肠绒毛的存在加大了小肠养分吸收的表面积,一旦受损则养分吸收效率大大降低。
Small intestine connects with gastric pylorus from the upper end and cecum from the lower end, divided into duodenum, jejunum and ileum. Nutrients are decomposed into absorbable small molecular substances and absorbed into blood and lymph circulation in small intestine, mainly by a chemical digestion of pancreatic juice, bile and intestinal fluid, as well as a mechanical digestion of small intestine motility. Intestinal villi expanded nutrient absorption area of small intestine, which negatively affects nutrient absorption once injured.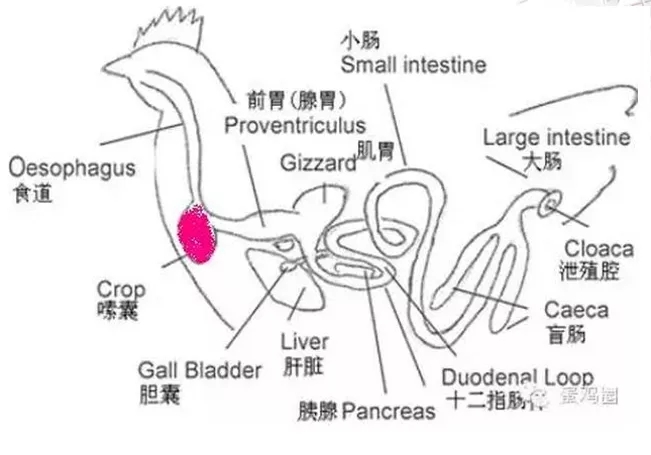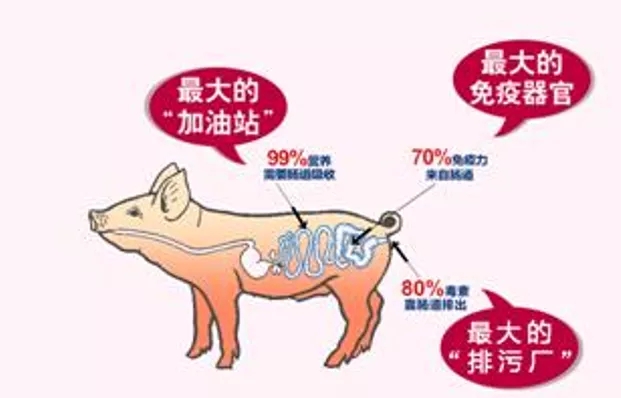 大肠——废物过滤器
Large intestine——The Waste filter
大肠为消化道末端,分为盲肠、结肠、直肠三个部分。大肠主要是进一步吸收粪便中的水分、电解质及其他有用成分(挥发性脂肪酸等)。大肠杯状细胞数量较高,分泌粘液蛋白促进粪便下行,保护肠壁,防止机械性损伤。
Large intestine is divided into cecum, colon, and rectum. It is the end of digestive tract, with a core function of absorbing water, electrolytes and other useful components (volatile fatty acids, etc.) exist in feces. A downward movement of feces, which is motivated by secreting mucus proteins as goblet cells in large intestine is high, will protect intestinal wall from a mechanical injury.
大肠内,微生物不断地对食物残渣进行发酵,大肠内细菌构成一个巨大而复杂的生态系统,对维持机体正常内环境具有十分重要的作用。
Microorganisms' constant fermentation over food residues, and the huge and complex ecosystem formed by bacteria, both of these two activities that happen in large intestine play an important role in maintaining a normal internal environment of the body.
小肠、大肠组织结构比较
Comparison of tissue structure of small intestine and large intestine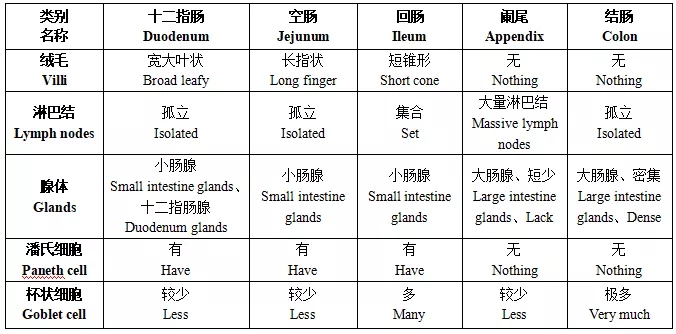 在实际生产过程中,为了实现生产效益的最大化,养殖动物肠道必须高负荷的进行饲料转化,其时时刻刻面临损伤的危险。首先,饲料里面高蛋白等会引起肠道粘膜的应激反应;其次,时刻面临着病原微生物的侵害;再者,生存环境的好坏,温、湿度的变化等等都会引起肠道粘膜的损伤。
In actual production, in order to maximize the production efficiency, the intestinal tract of breeding animals must carry out feed conversion under high load, which is facing a risk of injury all the time. First of all, a high content protein in feed causes a stress reaction of intestinal mucosa; secondly, intestinal is always invaded by pathogenic microorganisms; moreover, quality of living environment and changes in temperature and humidity, etc. will cause damages to intestinal mucosa.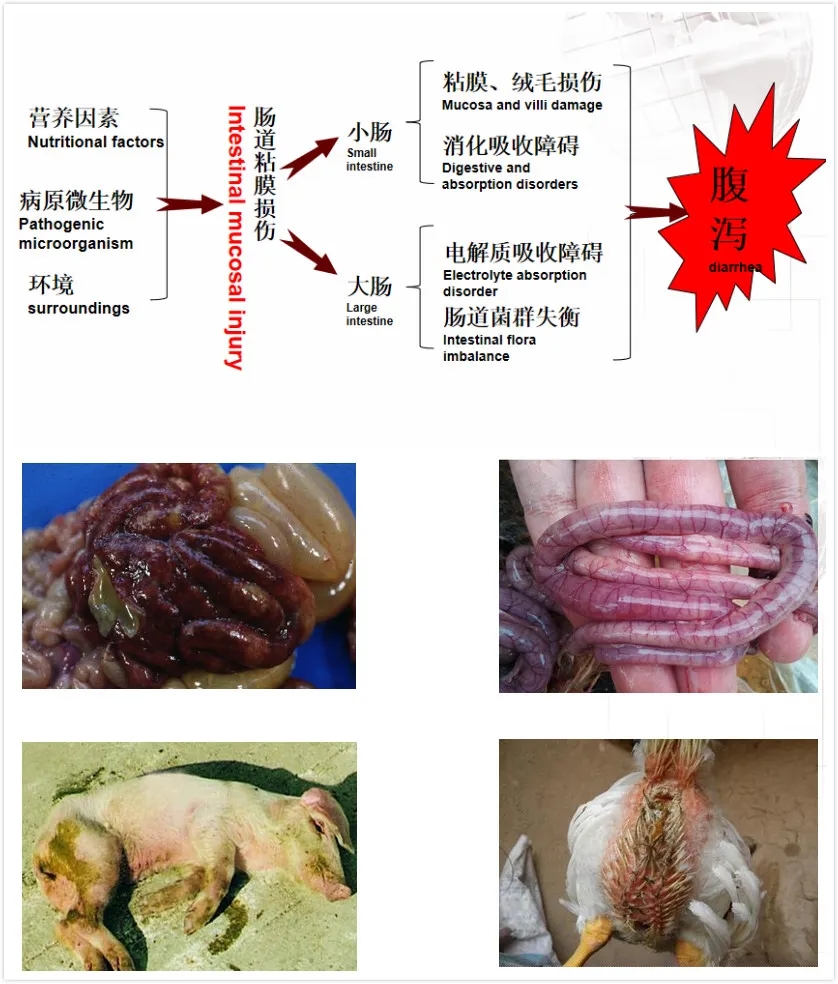 危机时刻存在,无抗时代,如何化解,值得思考!
The crisis always exists, the age of AGP-free, how to resolve is worth thinking!
抗生素禁用在即,替抗物质的筛选以及使用成为必然,而中、短链脂肪酸酯具有特有的过胃性能、较广的抑菌谱和特有的功能营养特点。例如:三丁酸甘油酯可以实现丁酸的肠道释放,最大限度的给肠道粘膜供应丁酸,且没有游离丁酸就没有了丁酸让人讨厌的臭味,完美实现不臭过胃护全肠;α-单月桂酸甘油酯作为中链脂肪酸酯的代表,其抑菌性能优越,针对产气荚膜梭菌以及空肠弯曲杆菌等常见致病菌效果显著。植物精油以及微生态制剂具有良好的广谱抑菌性能,且对肠道粘膜免疫有其特有功效,也是替抗不错的选择。一些特殊的功能性氨基酸通过肠道粘膜营养供应,也可迅速修复损伤粘膜提高粘膜抗逆性,在无抗时代也值得关注。
A screening and usage of AGP substitution is becoming an inevitable move, due to the prohibition of AGP announced in China. Medium and short-chain fatty acid esters have an unique stomach-feeding performance, broader antibacterial spectrum, and functional nutritional characteristic. For instance, tributyrin starts the release of butyric acid, of which maximize the supply to intestinal mucosa, moreover, tributyrin is able to get rid of a stink smell when free butyric acid disappears, bypass the stomach 100% and protects intestine. α-monolaurin, as the typical of medium-chain fatty acid esters, has an excellent antibacterial performance, especially on Clos'tridium 'perfringens and Campylo'bacter jejuni. With an exclusive effect on broad-spectrum antibacterial performance and intestinal mucosal immunity, both plant essential oil and probiotics are suitable options for AGP substitution. Some certain functional amino acids can also repair damaged mucosa to improve mucosal stress resistance, by nutrient supply from intestinal mucosa, which deserves attentions as well.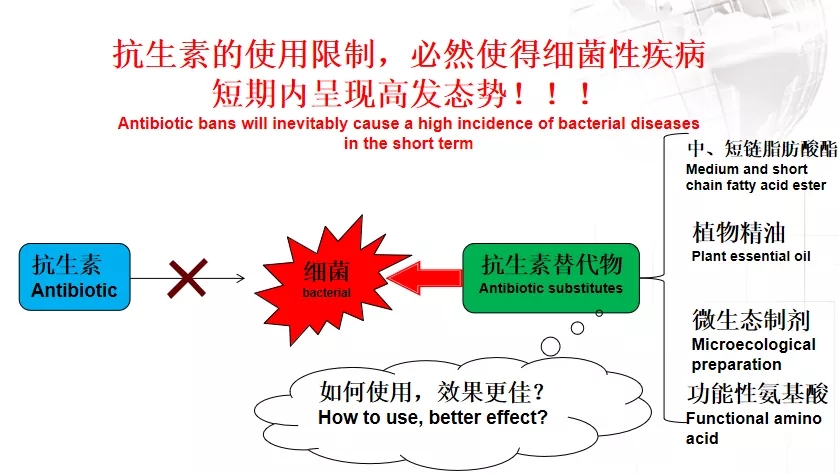 三丁酸甘油酯在胃中不被分解与吸收,可以"全过胃",特别是对主要定植于后肠和盲肠的病原菌(如沙门氏菌和产气荚膜梭菌),抑菌效果明显优于其他产品(如丁酸钠)。
Tributyrin gets to pass through stomach without being decomposed or absorbed all by its special feature, and it provides an antibacterial performance that surpasses many other products, especially on the pathogens (such as Salmonella and Clostridium perfringens) are 'colonized in hindgut and cecum.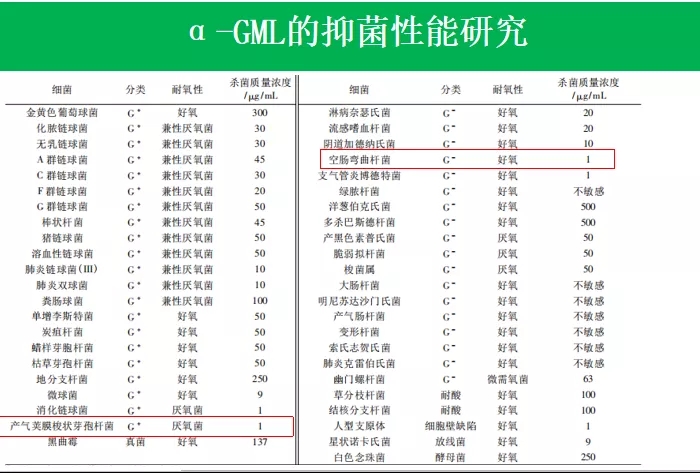 由上表可以看到,α-单月桂酸甘油酯对产气荚膜梭菌的敏感度非常高,产气荚膜梭菌容易导致母猪胀气病和坏死性肠炎。
It can be seen from the table above that α-monolaurin acid glyceride is highly sensitive to Clostridium perfringens which is easy to cause flatulence in sows and 'necro'tizing enteritis in swine and poultry.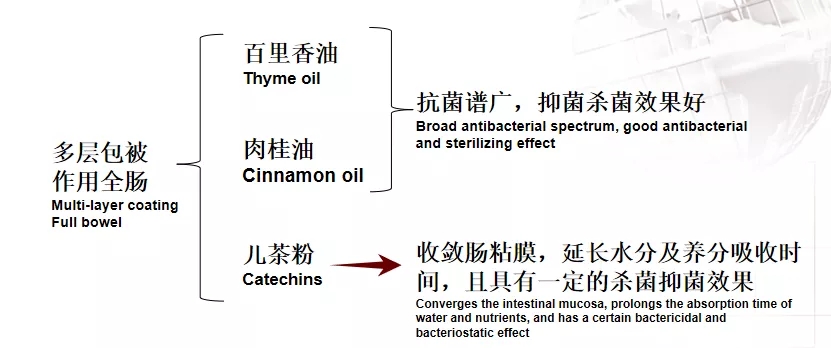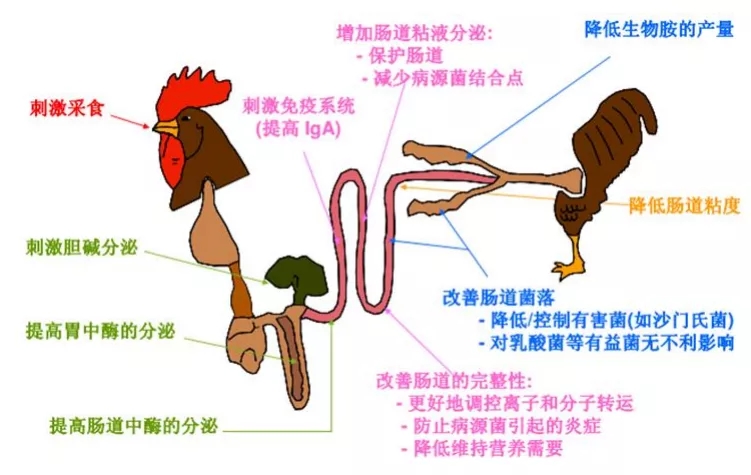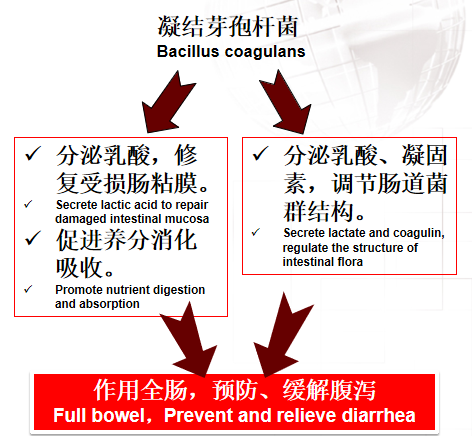 全面禁抗在即,肠道问题短期内必然会呈现上升趋势。无抗时代,针对肠道问题,必须要有全盘思考,一款好的替抗产品必然是在关注小肠消化吸收的同时,一定要注重大肠的水、电解质的吸收。
With a grand scale of AGP prohibition is approaching, intestinal problems will be in an upward trend in no time. We suggest an overall consideration should be laid on intestinal problems when we enter the AGP-free era. An adequate alternative to AGP will be required to pay attention to the absorption of water and electrolytes in large intestine, while focusing on the digestion and absorption of small intestine.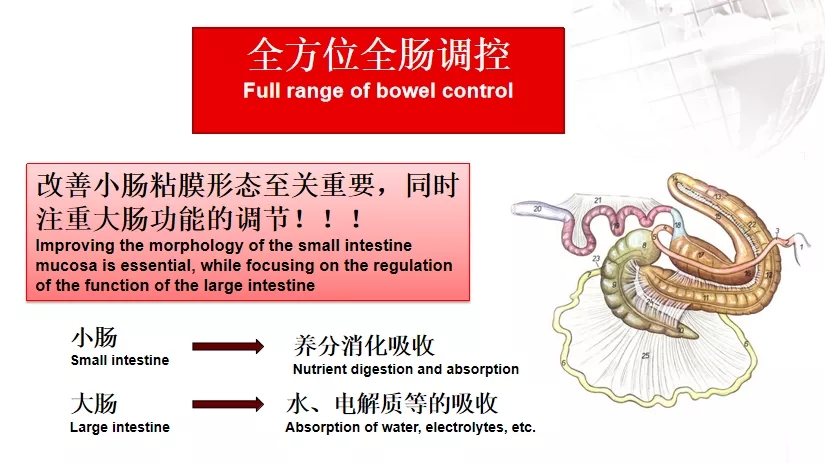 养殖就是养肠道,肠道健康养殖效益自然好!
When we say breeding, we talk about intestine protection, as an healthy intestine ensures benefits.